Regular price
Sale price
$59.99 USD
Unit price
per
Sale
Sold out
SKU: E-SK-PHFD10-VSH1
Introducing the NEW Alpine Pistol Slicker: The Ultimate Universal Holster
The Alpine Universal Pistol Slicker is a rugged and versatile 2-in-1 chest and leg holster harness designed for the modern outdoorsman. Crafted with Kydex, the 4-point connection plate offers unparalleled strength and durability. The chest harness fits chest sizes from 32"-68". This exceptional holster can be custom formed to fit any pistol, making it the most universally fitting holster available. The neoprene cover effectively shields your weapon from dust and moisture, ensuring optimal performance in any weather condition. From compact pistols to revolvers with 3" barrels, the Pistol Slicker accommodates a wide range of firearms. It guarantees comfort and easy access, featuring full adjustability for individuals with chest sizes ranging from 24" to 60". Rest assured, the Pistol Slicker is proudly patented and meticulously built in Utah, USA.
Key Features of the Alpine Universal Pistol Slicker:
Adjustable Mounting KYDEX Plate: With the ability to position your weapon for top, left, or right-hand, and 45-degree draw options, this holster offers unrivaled versatility. The KYDEX plate can be heated and reshaped up to 5 times, allowing for a perfect fit with different pistols. Fits chest sizes from 32"-68".

Weatherproof Neoprene Cover: Embodying our 'Vanish' series camo, the Pistol Slicker's neoprene cover remains securely attached to the bottom of the holster plate. This feature ensures unrestricted access to your weapon, simply pull down the cover whenever needed.

Instant Accessibility and Protection: In critical moments, having your handgun safely stored away in a safe or vehicle is of no use. The Alpine Universal Pistol Slicker provides users with both concealment and protection against harsh weather conditions and dirt, ensuring that your weapon is ready for immediate use.

Comfortable Weight Distribution: Enjoy the ultimate carrying experience with the Pistol Slicker's thoughtfully designed weight distribution system. You can confidently traverse rugged terrains while keeping your firearm secure and easily accessible.

Accommodates Various Pistols and Revolvers: Designed to fit most pistols or revolvers with barrels up to 4 inches, the Pistol Slicker ensures compatibility with a wide range of firearms commonly used in outdoor hunting scenarios.

Vanish Tan or Vanish Shadow Camo Options: Customize your outdoor gear with our signature camo patterns, offering both functionality and aesthetic appeal.
Step into the world of a true outdoorsman and experience the Alpine Universal Pistol Slicker. This multipurpose pistol harness and holster is the epitome of 21st-century hunting equipment. Featuring four connection buckles, it effortlessly transitions between chest and leg mounting, providing unparalleled versatility. Join the legacy of firearm holsters, where functionality meets rugged style, and let the Alpine Universal Pistol Slicker be your trusted companion in the great outdoors.
Share this product
View full details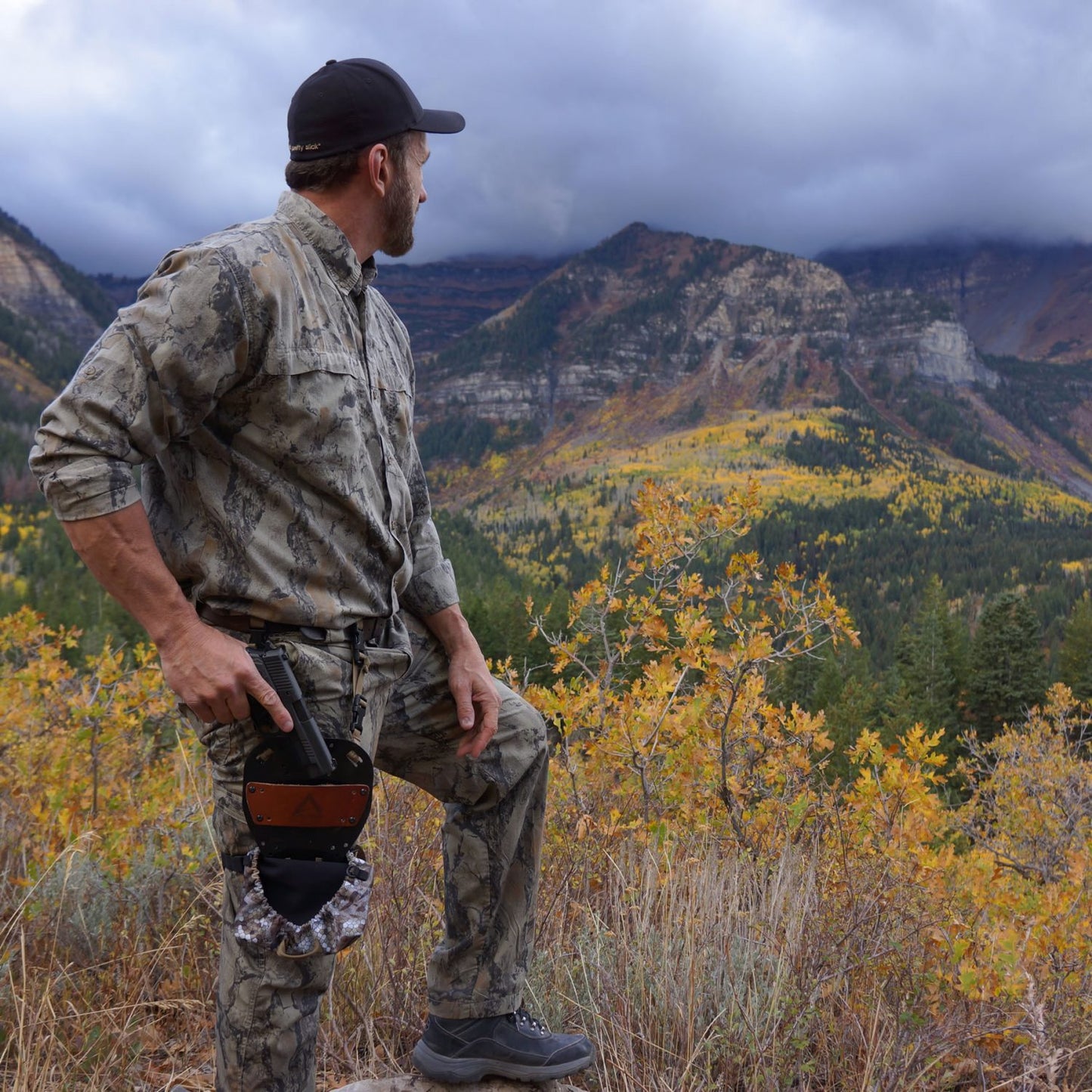 Best pistol carrier out there
After nearly two years with my first Pistol Slicker, I ordered a second one for one of my backpacking friends as a gift. Everything I said about it in my original review still holds true – best option I've found for discreet and weather-proof woods carry when backpacking. And after all this time, it's as good as new. Probably won't be the last one I gift to friends.
Collapsible content
Material

All products are made by hand proudly in the U.S.A. Materials are made from weatherproof neoprene. Dyed, Pressed, Cut, Sewn, and shipped to you. Alpine Products strives to give you the best quality for a product you can trust.
Warranty

All Products are backed by our Limited Life Time Manufacturer Guarantee. To learn more please visit Our FAQ Page.
Shipping

Alpine Products ship worldwide. If you have any specific questions about ship please check out our FAQ page for more info or contact our customer support.