Regular price
Sale price
$49.99 USD
Unit price
per
Sale
Sold out
SKU: E-SK-A-SYSTEM-VSH1
Introducing the Alpine Bow Slicker: The Ultimate Bow Sling for Hunting 
As a bowhunter, you know the historical prestige that comes with the art of archery. However, carrying your compound bow while hunting can be a challenge. That's where the Bow Slicker™ Ultralight Bow Sling, a blend of history and innovation by Alpine Innovation, comes to your rescue. This super quiet and convenient bow carrier sling allows you to carry your bow effortlessly while on the hunt or during target practice.
Modern hunting bows come with intricate designs, including cables, strings, and rotating cams. Protecting your bow while ensuring it remains easily accessible is crucial for your success as an archer. The Bow Slicker™ offers the perfect solution to your carrying dilemma. It provides a quiet and secure way to transport your bow, all while maintaining the accessibility you need to take the perfect shot.
Key Features of the Alpine Bow Slicker:
Ultralight and Durable: The Alpine Bow Slicker is constructed with durability and lightweight design in mind. It is built to withstand the rigors of hunting while minimizing additional weight to your gear setup.

Adjustable Webbing Band: The bow sling features an adjustable high-grade webbing band that runs along the length of the axle. This allows you to customize the length of the sling to fit your specific bow, ranging from 24" to 36".

Patented Limb Loops: The Bow Slicker™ incorporates patented limb loops that distribute weight evenly around the perimeter of the risers. This ensures a secure and protected hold on your bow, minimizing any potential slippage or damage during transport.

Easy to Use: The sleeve of the Bow Slicker™ is made with elastic in the hem, providing a secure grip around the bow while allowing for quick and effortless removal. There are no clips, snaps, or buckles required, making it incredibly convenient and functional.

Quick Removal: To remove the Alpine Bow Slicker™ from your bow, simply slip the top limb loop from the riser, and let gravity slide it off the bottom limb. This process takes only 2-3 seconds, allowing you to swiftly prepare for a shot. The Bow Slicker™ is designed to protect your bow during the hunt without the added weight of a hard case.

Made in America with Guarantee: Our Bow Slickers are proudly made in the United States and come with a guarantee against manufacturer defects. We are confident that you will love the sling so much that you'll wonder why you didn't always have one.
FAQs:
Can you carry a compound bow by the string? It is not recommended to carry or store your compound bow by the string. Preserving the integrity of the strings is important, so using a Bow Slicker™ while using the bow and a case while not in use is the best practice.

Will the shoulder sling droop and make my bow slip? No, the tension on the sling is maintained by an adjustable mesh strap running the length of the axle. Along with the limb loops, this ensures that the bow remains securely held, regardless of how the shoulder sling is adjusted.

Can you transport a bow on an airplane without a case? TSA guidelines state that bows need to be transported in a case when traveling by aircraft. We recommend using a hard case as luggage handling at airports can be rough. Always check ahead and adhere to the specific requirements and restrictions for your travel itinerary.
The Alpine Bow Slicker is designed to keep your cables, strings, and cams protected while providing quick and quiet removal when needed. With its lightweight, weatherproof construction, limb loops for secure hold, and overall convenience, it stands as the best bow sling for hunting on the market.
Experience the difference of carrying your bow with the Ultralight Alpine Bow Slicker™ today. Preserve the integrity of your bow while enjoying optimal accessibility during your hunting pursuits.
Share this product
View full details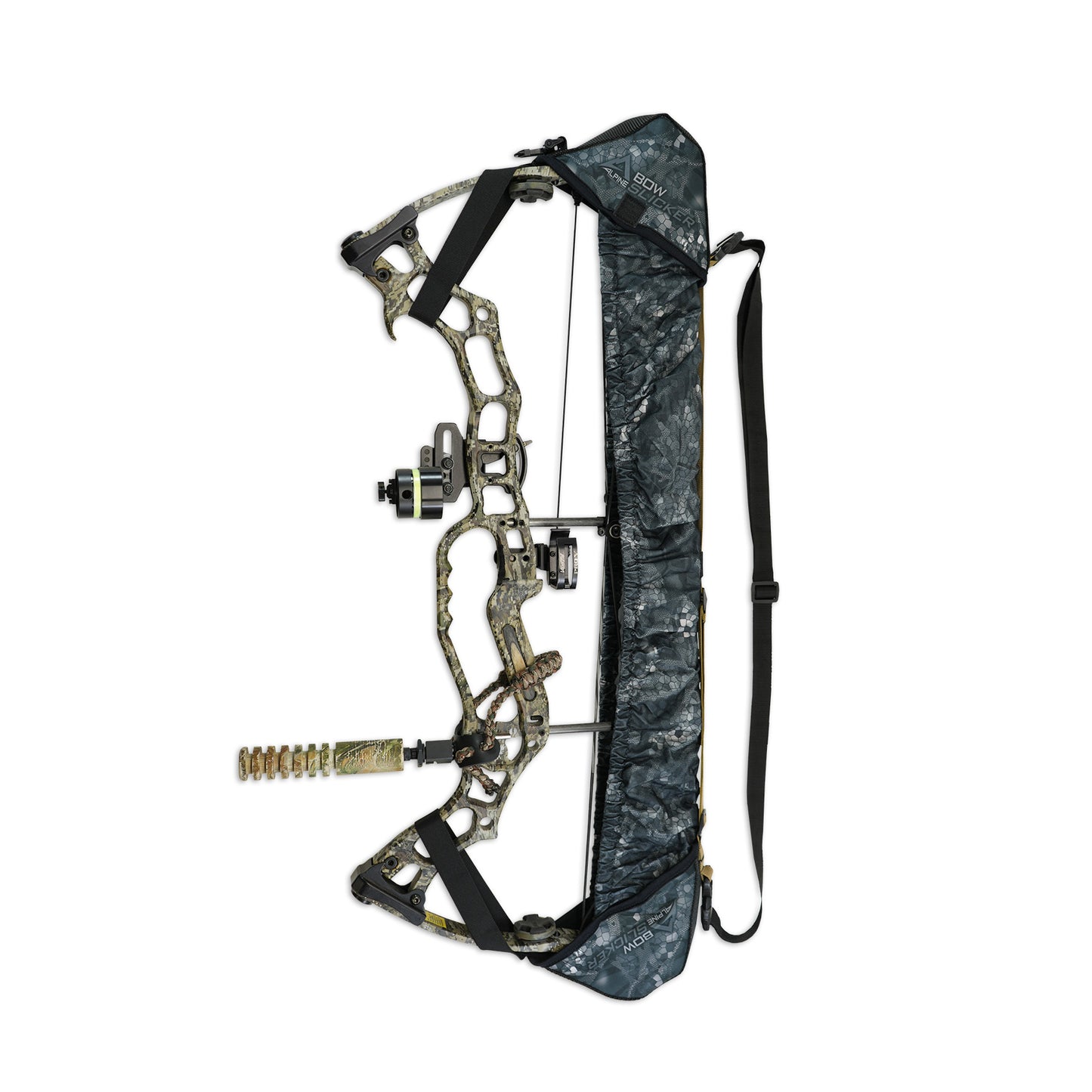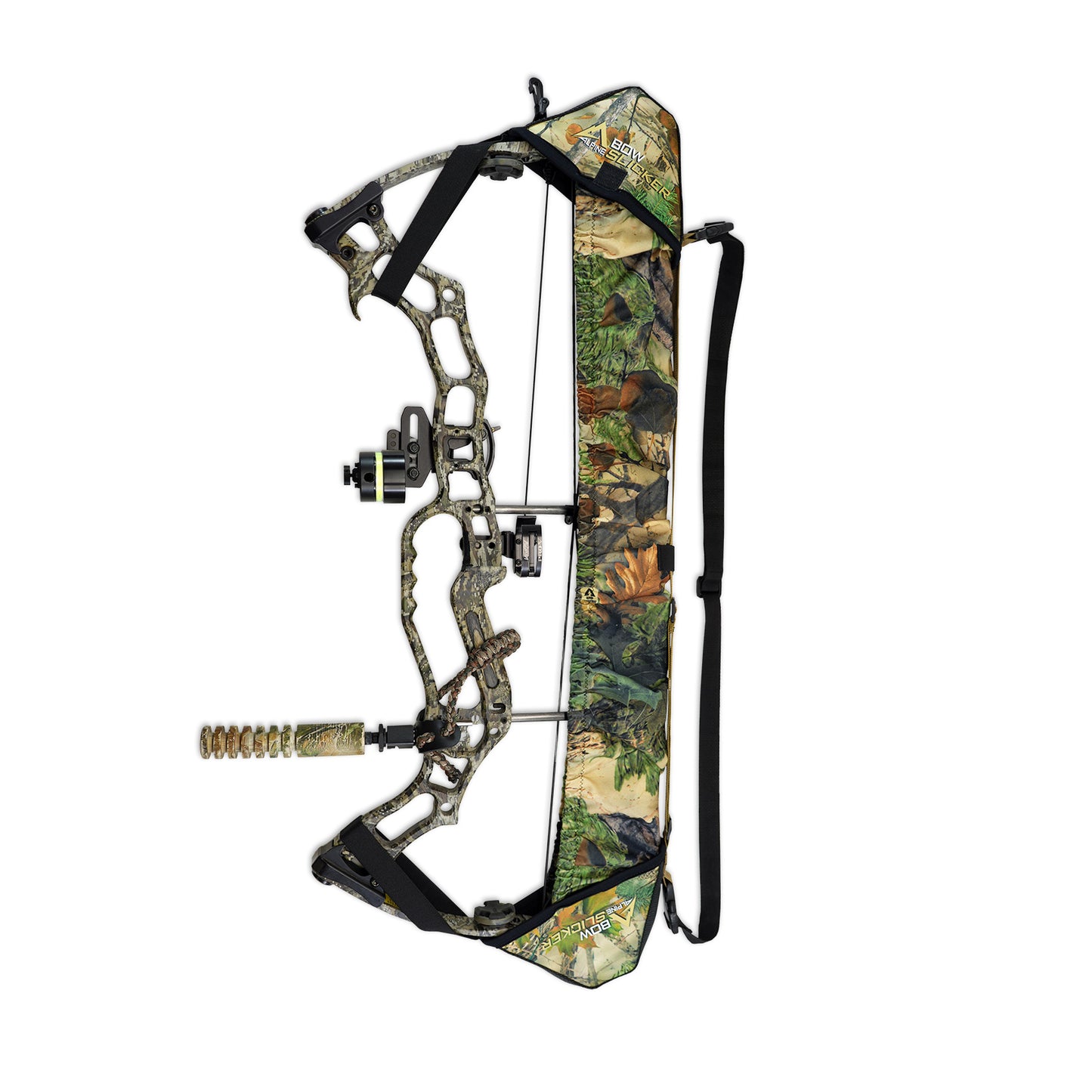 Haven't used it in the field yet but fit and function seem to be excellent!
Bow sling
Excellent sling. Fits my Mathews traverse perfectly. Bought it to replace the Primos sling that was impossible to fit on bow.
Great fit
This was just the product I was looking for. After having bulky units that my bow fell out of or ones with sub par protection this was just right, awesome product and a great price to boot.
"Love this Bow Slicker"
This Bow Slicker is an absolute Game Changer!!!!
It fits like a Glove, Made of Kryptonite,
Functions Perfectly, & Looks Stunning 🤩 🙌🏻👍‼️
Collapsible content
Material

All products are made by hand proudly in the U.S.A. Materials are made from weatherproof neoprene. Dyed, Pressed, Cut, Sewn, and shipped to you. Alpine Products strives to give you the best quality for a product you can trust.
Warranty

All Products are backed by our Limited Life Time Manufacturer Guarantee. To learn more please visit Our FAQ Page.
Shipping

Alpine Products ship worldwide. If you have any specific questions about ship please check out our FAQ page for more info or contact our customer support.