Regular price
Sale price
$19.99 USD
Unit price
per
Sale
Sold out
SKU: E-SK-AWFD07-VTN1
The Alpine Ammo Wallet
When you're on the hunt, you don't have time to "rifle" through your bags and equipment for another round. The Alpine Ammo Wallet is the perfect ammo storage solution for hunters and shooters. The compact design provides a great way to carry extra ammo right on your person so you can easily and quickly reload when you need to. Just like our Slicker Ammo Wallet, this convenient pouch is designed to help you carry a few extra rounds without the bulk of another magazine or ammo cache. 
You will love the way this slim and handy pocket-sized wallet attaches to your belt and fits snugly against your hip–right where you can grab one or more rounds with ease. This is, by far, the best rifle ammo wallet and comes at a bargain price! The Alpine Ammo Wallet is made with a special non-slip, neoprene fabric and heavy-duty Velcro which means your ammo will stay in place and be right where you need it. It comes in large and small caliber holds so your rounds have a more accurate and secure fit.  
As always, you'll want your hunting products, clothing, and equipment to blend in with nature. You'll love the unique and edgy Alpine Innovations camo print, which comes in both Vanish Shadow and Vanish Tan. Stylish, functional, and handy, it's the trifecta of great hunting gear!
This ammo wallet was built to ensure your rounds stay organized and secure. The sleek design and ammo sleeves within the wallet ensure that it won't get in your way and will keep your ammo in place. Each round is held by a fitted elastic loop and tucked into a catch pocket so nothing can accidentally slip out of the wallet. Keeping track of every single round has never been easier!
Having that extra ammo on your person allows you to stay present and focused. Seasoned hunters know that your ability to stay still and quiet can make the difference between getting your game and going home empty-handed. Don't risk not having the rounds you need when it counts most. Take your shooting and hunting game to the next level by having this small but handy piece of hunting gear with you.
Specs:
The Alpine Ammo Wallet is made from Durable non-slip Neoprene with heavy-duty Velcro. Comes with a catch pocket and adjustable fit made to fit most belts. Large Caliber size holds fit 7 cartridges (.308 - .338) ammo. Small Caliber size holds fit 10 cartridges (.17-.223) ammo.
Key Features:
Keeps Ammo Secure
Quick Access
Grips belt with non-slip neoprene
Various sizes offered for most ammo
Share this product
View full details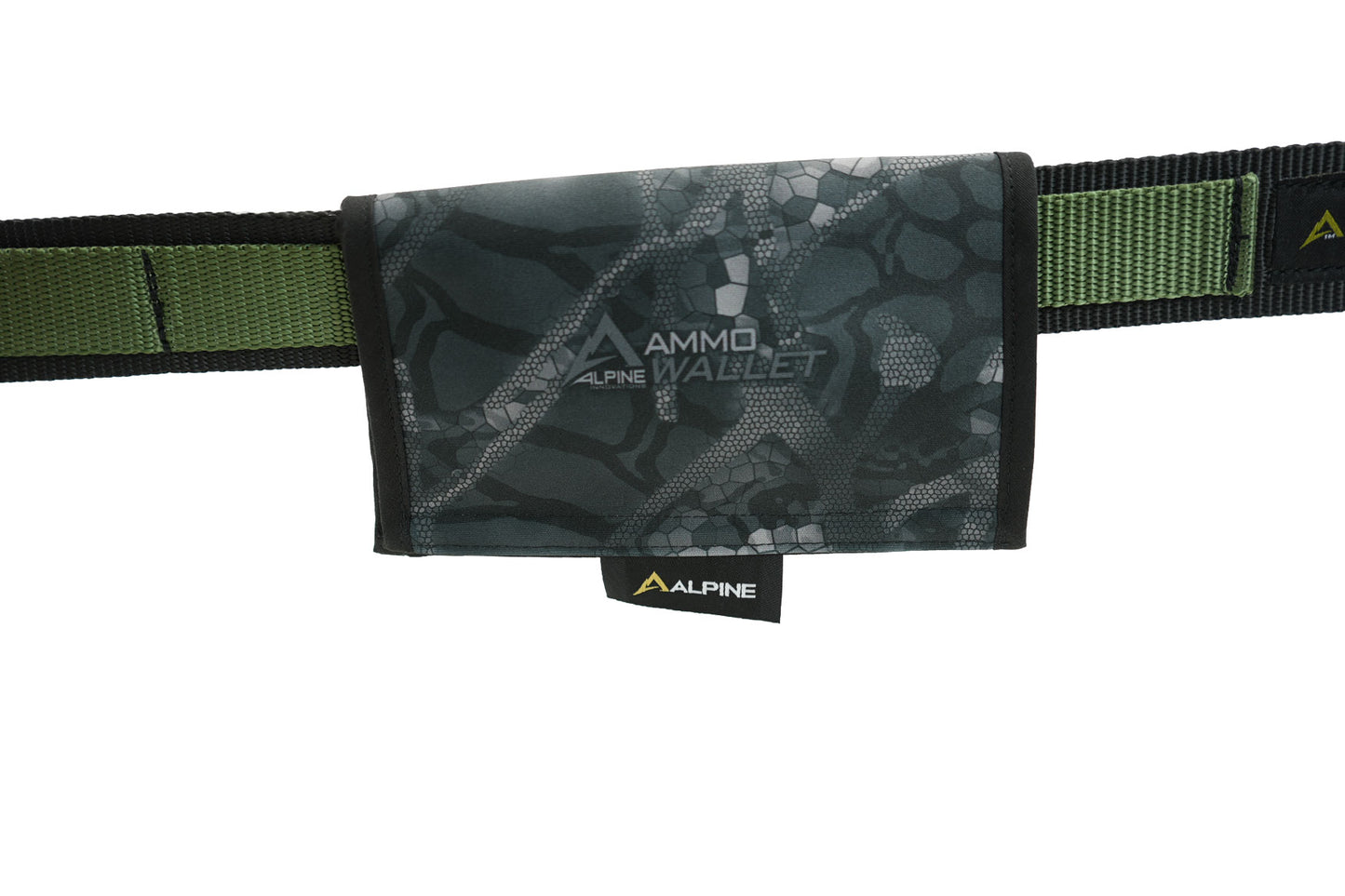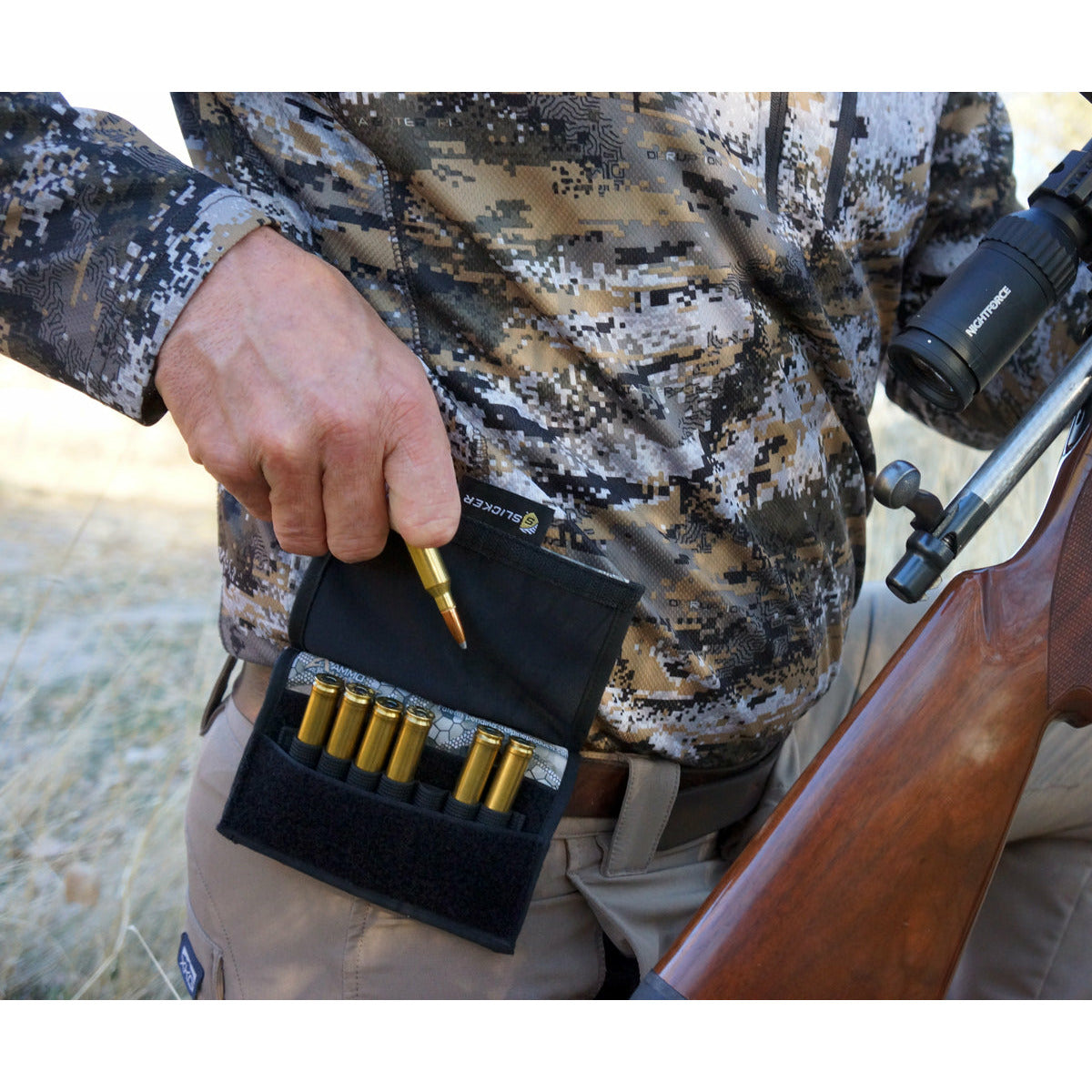 Well made, but not well designed. Belt loop portion is not sufficient to securely fasten over a belt more than about 1 1/2 inch wide. (My belt is 2 ".) The belt loop should also be stitched across the bottom instead of secured with velcro. Most of the time, when pulling the tab to access the cartridge flap, the outside of the pouch itself detaches from the velcro strip holding the belt loop together. And this was when it was being worn on a 1 1/4 " wide web military trouser belt.
Top Delta, thank you for your review, We value your feedback and are always considering new ways to improve our products. This has brought to our attention a potential flaw with the Ammo Slicker and we will defiantly look into some possible adjustments to make it a better fit for the hunter. We appreciate your business' and hope you have a great hunting season!
Collapsible content
Material

All products are made by hand proudly in the U.S.A. Materials are made from weatherproof neoprene. Dyed, Pressed, Cut, Sewn, and shipped to you. Alpine Products strives to give you the best quality for a product you can trust.
Warranty

All Products are backed by our Limited Life Time Manufacturer Guarantee. To learn more please visit Our FAQ Page.
Shipping

Alpine Products ship worldwide. If you have any specific questions about ship please check out our FAQ page for more info or contact our customer support.