Regular price
$29.99 USD
Sale price
$24.99 USD
Unit price
per
Sale
Sold out
SKU: E-SK-AMFD07-VSH1
Ammo Slicker
When you need a quick reload or follow-up shot, the last thing you want to be doing is digging into your ammo box for some rounds. Make sure you have them right on your person with the Ammo Slicker™. This innovative rifle ammo pouch attaches to the buttstock of your weapon and holds the extra rounds you need on the hunt or while target shooting. Its sleek design and camo print make it an ideal piece of hunting equipment.

This gun stock ammo holder is made of durable, non-slip neoprene and comes in a variety of ammo prints. With elastic loops for your rounds and a catch pocket, your ammo stays secure and ready for use. It fits most butt stocks on the market and comes in large, small, shotgun, and single-pocket designs so no matter what caliber of the round you use, we've got you covered.
The slicker is flexible and adjustable, so it stays firmly attached to your rifle, making it the best ammo pouch on the market! If you're worried that your cheek weld will be compromised, rest easy. This critical hunting accessory comes with the bonus of added security. The non-slip fabric this pouch is made of makes the contact with your butt stock even more secure. It comes in both Stealth Shadow and Alpine Mountain camo prints. 
Making sure your ammo stays clean and dry means more accurate firing and slower residue build-up. The Ammo Slicker™ shell holder also keeps your rounds protected from dirt and debri by entirely covering the rounds within it. With a secure velcro flap, you can be sure that your rounds will stay clean, dry, and accessible. Because the pouch is designed to carry extra rounds, the slight noise made by the velcro doesn't matter as you will be reloading and not taking your first shot. 
Don't fumble your way through the hunt or miss a crucial kill-shot because your ammo wasn't clean and accessible. Have the rounds you need, when and where you need them by having the Alpine Innovations Ammo Slicker™ on your rifle and filled with extra rounds. Alternatively, our Ammo Slicker with Dope Sheet Window gives you the same added rounds on your rifle with the crucial information you might need about the game you are hunting. For even more rounds securely on your person, check out our Ammo Wallet Belt. 
FAQs:
Will the Ammo Slicker cause me to lose cheek weld? 
-No. The non-slip neoprene construction actually improves contact with the stock. 
How many rounds can the clicker hold?
-The slicker can hold 3 .50 cal rounds, 7 large caliber rounds, 10 small caliber rounds, or a box of .22 rounds with the open pocket design. 
Will the velcro create noise that can scare away my game?
-As the ammo pouch contains extra rounds, it won't create noise while you are taking your initial shot. 
KEY FEATURES
Keeps Ammo secure

Keeps Ammo clean and dry
Grips stock with non-slip neoprene
Adjustable to fit most butt-stocks

Comes in several sizes

Made in the USA
CALIBER SPECS:
The large-caliber Alpine Ammo Slicker fits .308win & .270 win up to .338 and holds seven rounds.
The small caliber Alpine Ammo Slicker fits .17 up to .223 and holds ten rounds.
For shotguns, the product fits a range of gauges: from 20 gauge up to 12 gauge.  The ammo holder holds five rounds.
The single pocket Ammo Slicker is perfect for 3 - .50 caliber black powder speed loaders or a box of .22 shells/pellets/accessories.
Share this product
View full details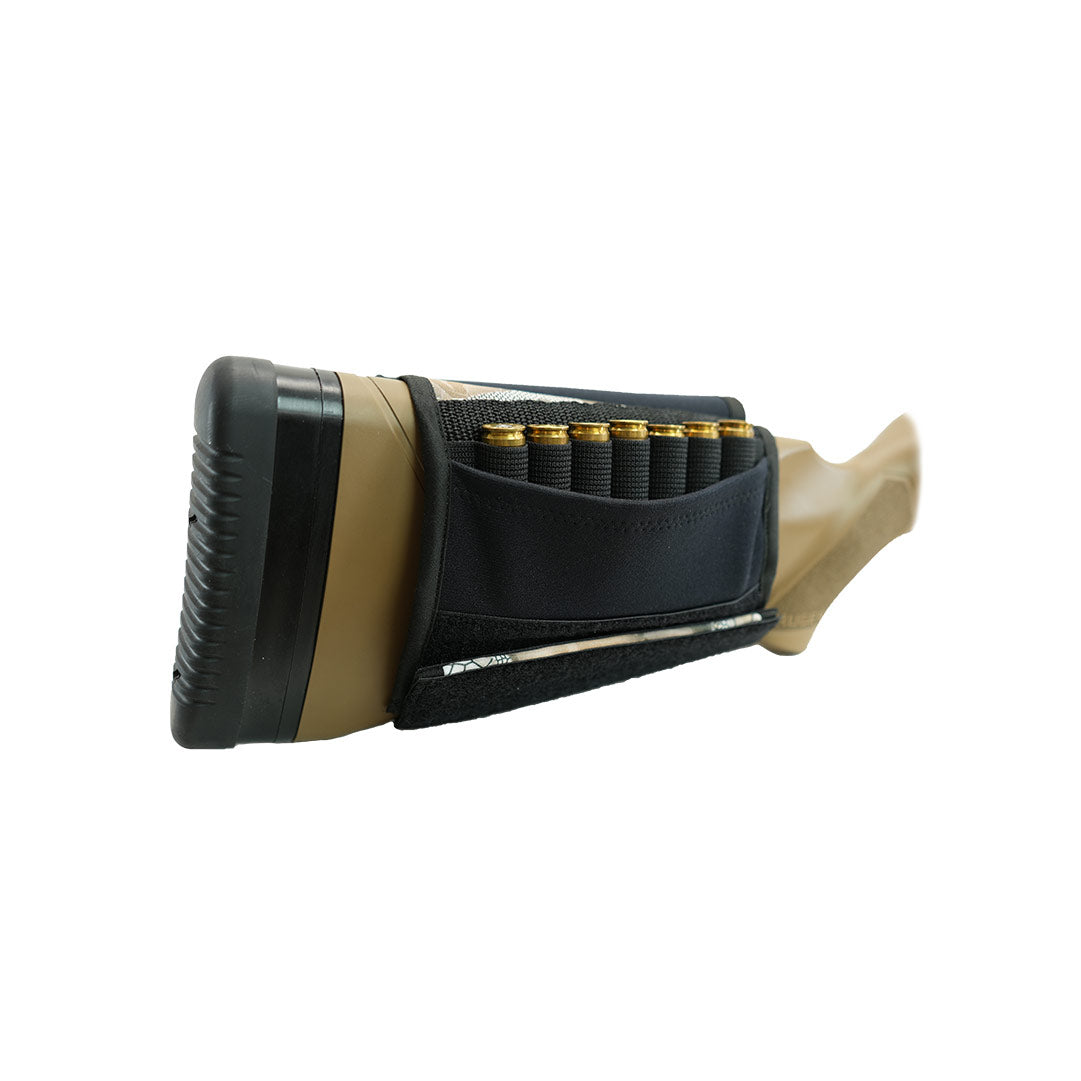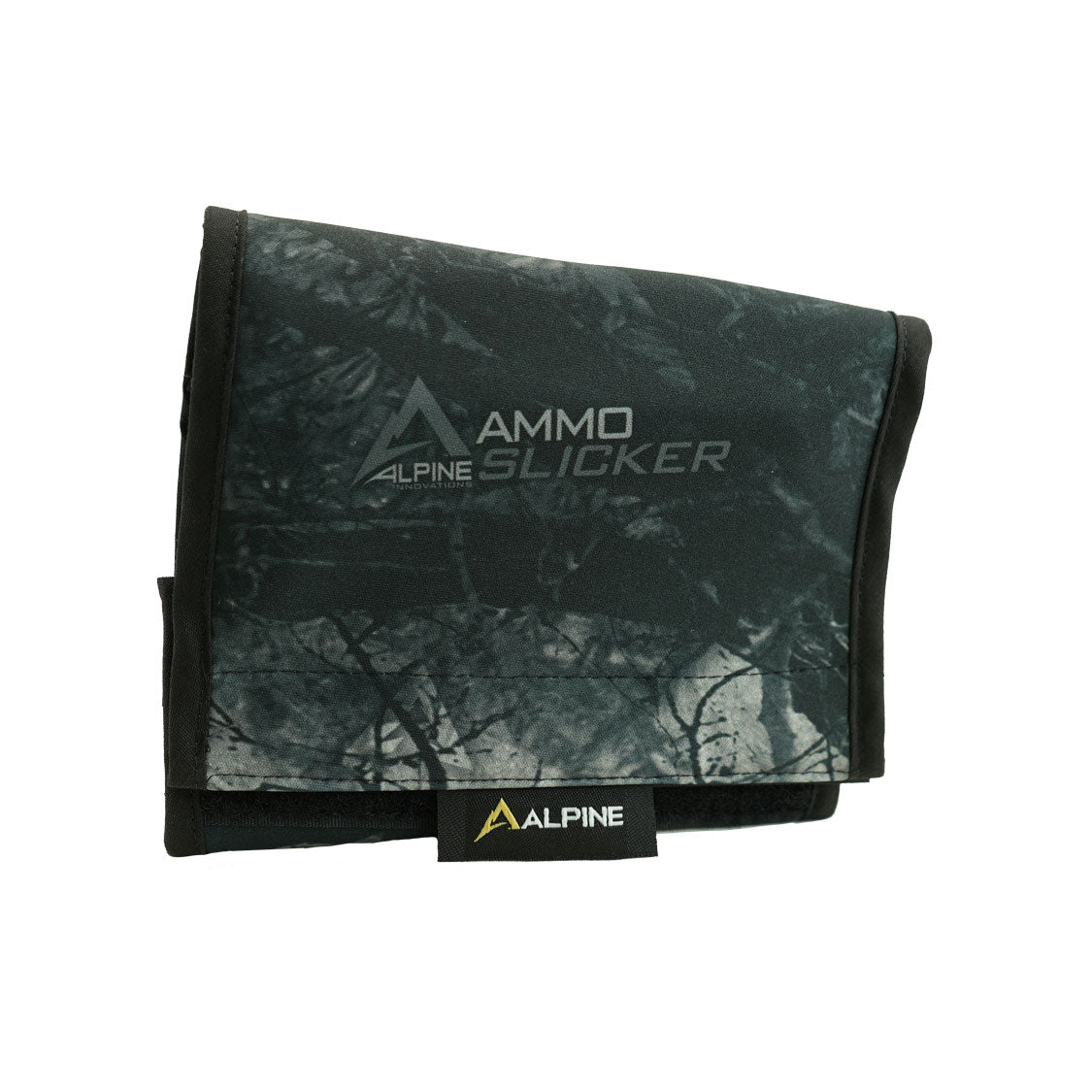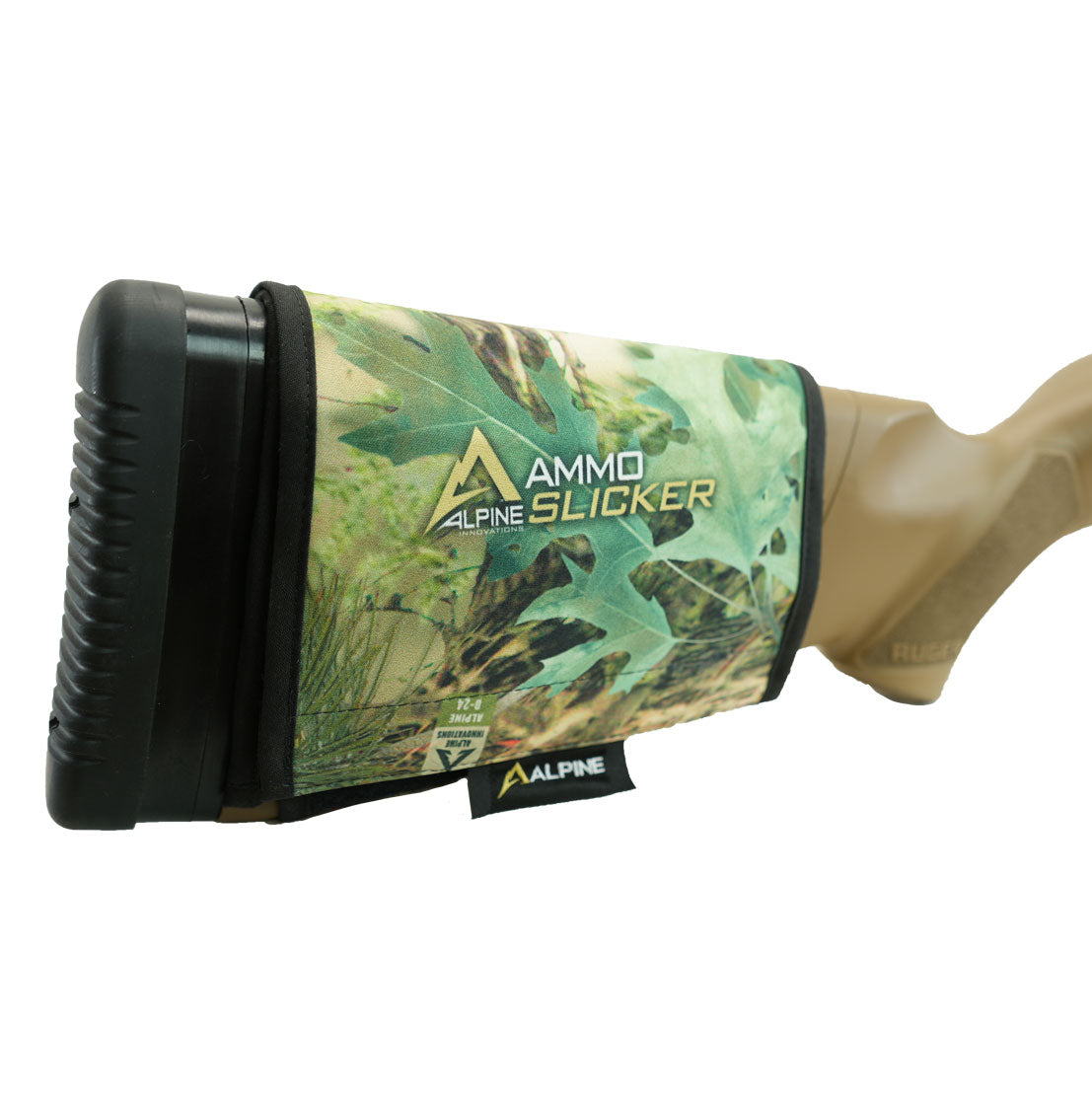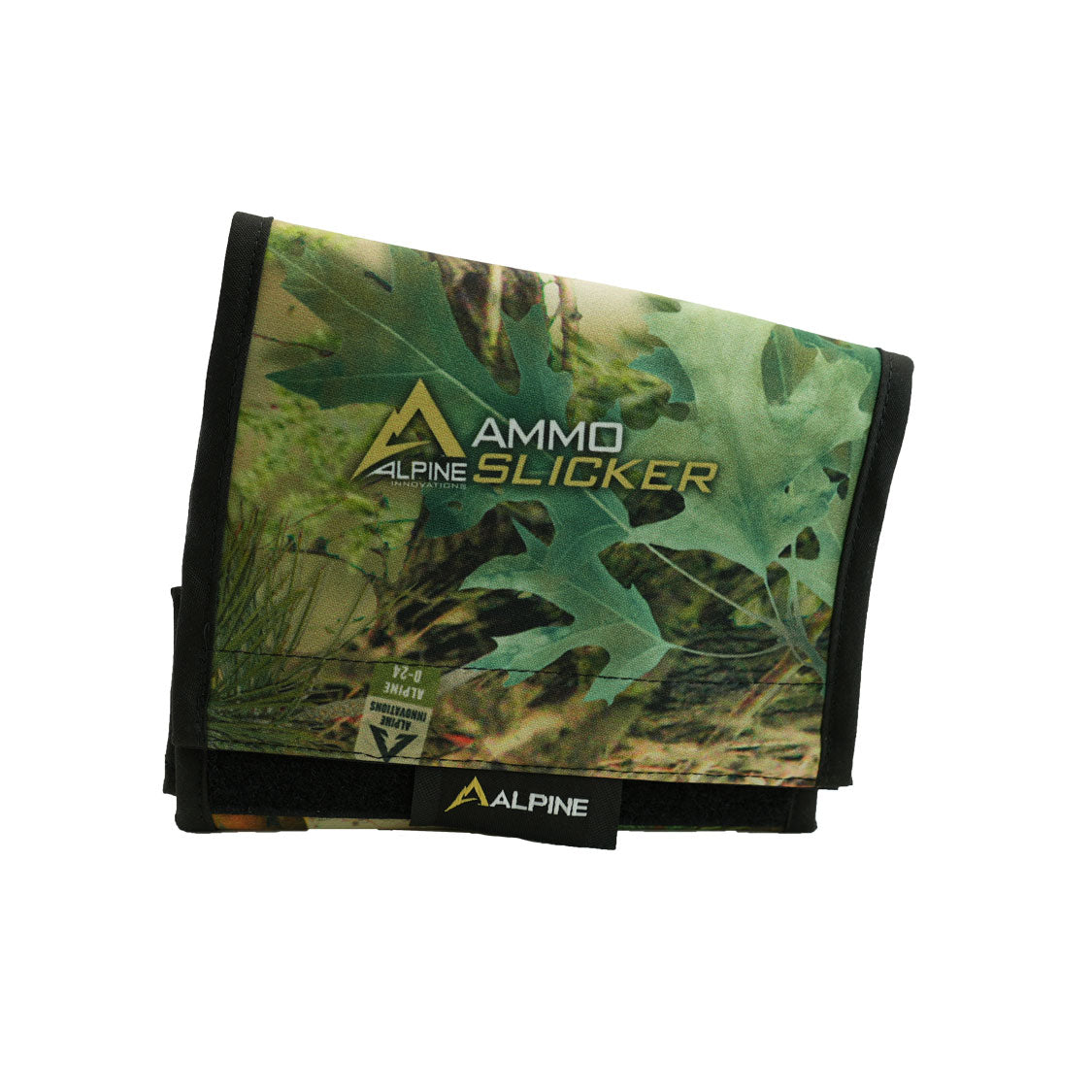 Another quality Alpine product!
The ammo slicker is just as described and I'm very happy with it. Tan camo color is perfect compliment to my tan stocked Tilka!
22 Hornet
Seems like a great pouch!
Ron,
Thank you for the review!
Ammo slicker
I love these ammo slickers they work great and are well built.
Great bullet caddy
Awesome bullet caddy there's no way for your ammo to fall out while your hunting they fit tight enough they don't slip and ammo is secure.
Justin,
We appreciate your business and thoughtful review!
Another great product
Scope slicker looks great atop my realtree 350 legend scout. Ammo pouch matched great and stays where it should!
Andy,
Thank you for your thoughtful review! We appreciate all the feedback!
Collapsible content
Material

All products are made by hand proudly in the U.S.A. Materials are made from weatherproof neoprene. Dyed, Pressed, Cut, Sewn, and shipped to you. Alpine Products strives to give you the best quality for a product you can trust.
Warranty

All Products are backed by our Limited Life Time Manufacturer Guarantee. To learn more please visit Our FAQ Page.
Shipping

Alpine Products ship worldwide. If you have any specific questions about ship please check out our FAQ page for more info or contact our customer support.