Regular price
Sale price
$39.99 USD
Unit price
per
Sale
Sold out
SKU: E-SK-NX2-SPTFD20-VSH1
Weatherproof Spotting Scope Cover: Spot-Slicker NX2
Whether you are glassing, on the hunt, or sighting in your weapon, inclement weather impedes optical clarity. Keep the rain, dirt, and fog from soiling your lens and obscuring your vision. Cover up your scope with the Alpine Innovations Spot Slicker NX2 –the best scope cover on the market! You can buy one right here or you can find the Spot Slicker Cover at your local Sportsman's Warehouse as well!
What is it?
The Spot Slicker NX2 is a convenient, weather-proof, protective cover for your spotting scope. It protects your lens and keeps the surface pristine so you can see vivid details. Made of flexible fabric so you can cover the scope but can quickly and easily be removed when game catches your eye. Your shot is only as clean as your lens, so don't miss your kill because your scope was gunked up! Keep it covered and protected from the elements so it's when you are.
It's Convenient
This lightweight accessory is easy to bring along and can really save your hunt. It slips over the scope and uses three retaining bands to keep it secured while providing quick viewing access at the ends. The ends also feature rigid objective lens inserts for added protection. You'll also never have to worry about smears or smudges on your lens since this scope cover includes a finger pocket cleaning cloth sewn inside.
It's Rugged
The Spot Slicker NX2's form-fitting design gives you the increased protection of premium 2mm neoprene with the addition of a rigid objective lens insert. This hardy but lightweight cover can keep the elements out and protects your scope.  It comes in our Vanish Shadow camouflage and fits a wide range of the most commonly used spotting scopes. 
It Defies The Elements
The Spot Slicker scope cover may seem like a simple piece of cloth, but it holds its own as a must-have hunting accessory. Its innovative design keeps it lightweight, quiet, and easy to use. Including it in your arsenal of hunting equipment can mean the difference between making your shot and missing it. Hunting season is usually damp, dirty, and windy. Don't risk leaving your scope exposed to unforgiving, Fall weather, dirt, debris, and water. Your optics are expensive, they deserve the most protection for that critical moment. 
FAQs:
What is a spotting scope cover?
A spotting scope cover is a lightweight sleeve-like cloth used to protect and cover your spotting scope from rain and dirt.
Do I need a scope cover?
If you are hunting or shooting outdoors, a scope cover is an indispensable addition to your gear and equipment. It will help protect your scope from the many things that can damage it while hunting. 
Is the Spot Slicker NX2 noisy?
No, the Alpine Innovations Spot Slicker NX2 is made of quiet neoprene that is easily pulled back to reveal the lens when taking a shot. 
Features
Weather-Proof

Neoprene

Light Weight

Finger Pocket Lens Cleaning Cloth

Hardened Insert for Lens Protection

Quick Access

Machine Washable

Camouflage Print

Easily Secures To Rifle

Durable

Made in the USA
Share this product
View full details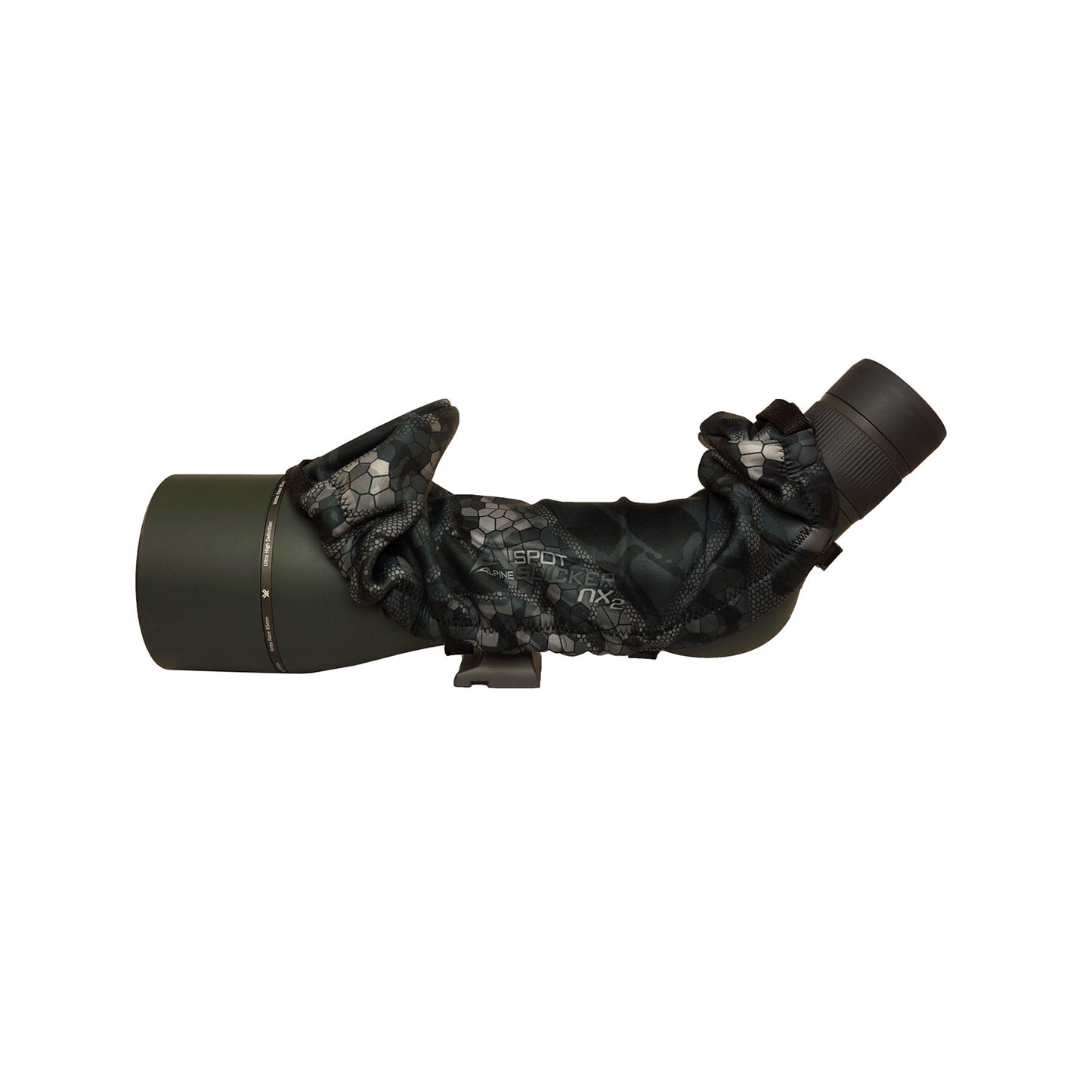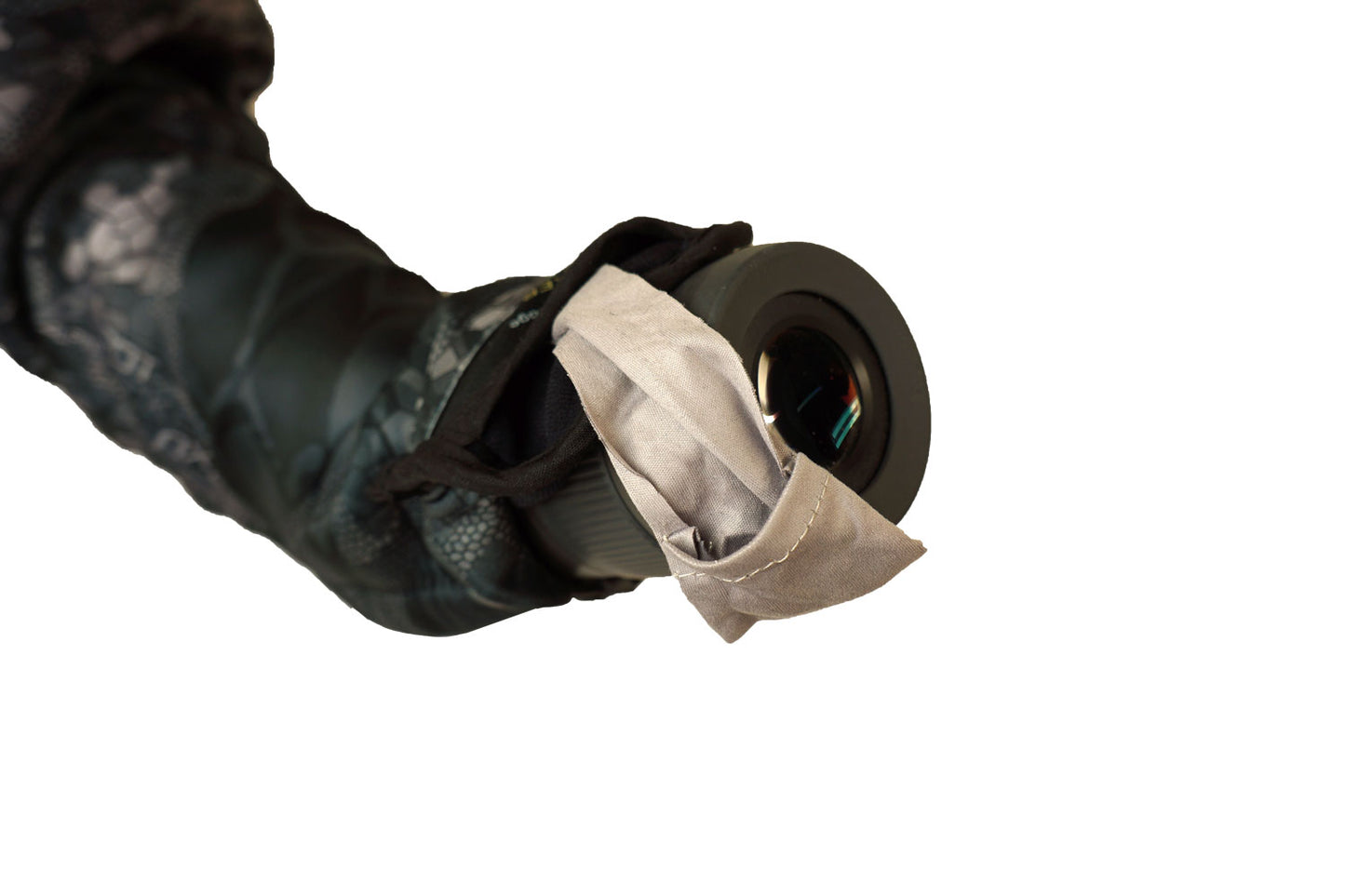 Fast
Fast shipping. Fits my rifle perfectly. Expert craftsmanship
Nice cover
Nice cover fits my leupold alpine fine
Simple and Effective
Use the scope cover on a Kowa TSN 663 angled spotting scope for high-power service rifle competitions. Have to undo two of the three small buckles to be able to reach the focus knob, but it is not an issue. The built in lens cloth get used more for my safety glasses than anything, but it's a much welcomed accessory. I still use the Kowa rubber/ plastic lens covers before placing the cover over the scope, but they really aren't needed. Simple and awesome cover. Will get a lot of use out of it. Thanks.
Collapsible content
Material

All products are made by hand proudly in the U.S.A. Materials are made from weatherproof neoprene. Dyed, Pressed, Cut, Sewn, and shipped to you. Alpine Products strives to give you the best quality for a product you can trust.
Warranty

All Products are backed by our Limited Life Time Manufacturer Guarantee. To learn more please visit Our FAQ Page.
Shipping

Alpine Products ship worldwide. If you have any specific questions about ship please check out our FAQ page for more info or contact our customer support.