Regular price
Sale price
$49.99 USD
Unit price
per
Sale
Sold out
SKU: E-SK-DS10-G10
Introducing the Alpine QR/QD Dual Sling: Unmatched Comfort and Versatility
The Alpine QR/QD Dual Sling offers exceptional comfort and security, allowing you to effortlessly transition from a single shoulder to a dual shoulder sling in a matter of seconds. Designed with your comfort in mind, this sling evenly distributes weight across both shoulders, providing hands-free stability during your hunting adventures. Included with the Dual Sling are two metal Quick Release (QR) swivels, ensuring compatibility with rifles and shotguns. The 1.5" wide webbing grips your shoulders, guaranteeing a worry-free trek without slippage.
Key Features of the Alpine QR/QD Dual Sling:
Heavy-Duty Weather-Resistant Webbing: Our sling is constructed with durable and weather-resistant webbing that firmly grips your shoulders. Rest assured, this material won't scratch your weapon or its coating, addressing a common concern among firearms enthusiasts.

Secure and Slip-Free: The Alpine Dual Sling is designed to stay securely in place, eliminating the hassle of constant readjustments. With its two-shoulder configuration, this sling offers unmatched stability, allowing you to outlast your prey in any hunting scenario.

Quick and Unobstructed Access: When it's time to take your shot, you don't want your gear to hinder your movement. Our sling keeps your firearm in a convenient position, ensuring quick access without any interference.

Optimal Stability: The 1.5" width of the Alpine Dual Sling provides stability, preventing any unwanted shifting or movement during your hunting expeditions.

Transformable Design: With the ability to transform from a single sling to a dual sling in just seconds, the Alpine Dual Sling adapts to your specific needs. It's a sling that caters to you, not the other way around.

Fully Adjustable: Customize the length of the sling to your preference, ensuring a comfortable fit and optimal performance.

Included Quick-Release Swivels: Two metal quick-release swivels come with the Dual Sling, making attachment and detachment a breeze. Please note that matching quick detach sockets mounted on your weapon are required for optimal functionality.

Compatibility: The Alpine Dual Sling is compatible with rifles, shotguns, and crossbows, providing versatility across a range of firearms.

Lightweight and Rust-Resistant: The slider and buckle used in the Alpine Dual Sling are constructed from lightweight yet durable engineered polymer. This ensures they are corrosion-resistant, guaranteeing long-lasting performance in any weather condition.

Sleek Black Color: The Alpine QR/QD Dual Sling features a sleek black color, adding a touch of elegance to your gear.
Rest assured, the Alpine QR/QD Dual Sling is backed by a patent-pending design and proudly made in the United States, meeting the highest quality standards.
Experience unmatched comfort, convenience, and reliability with the Alpine QR/QD Dual Sling. Elevate your hunting experience and take your gear to the next level.
Share this product
View full details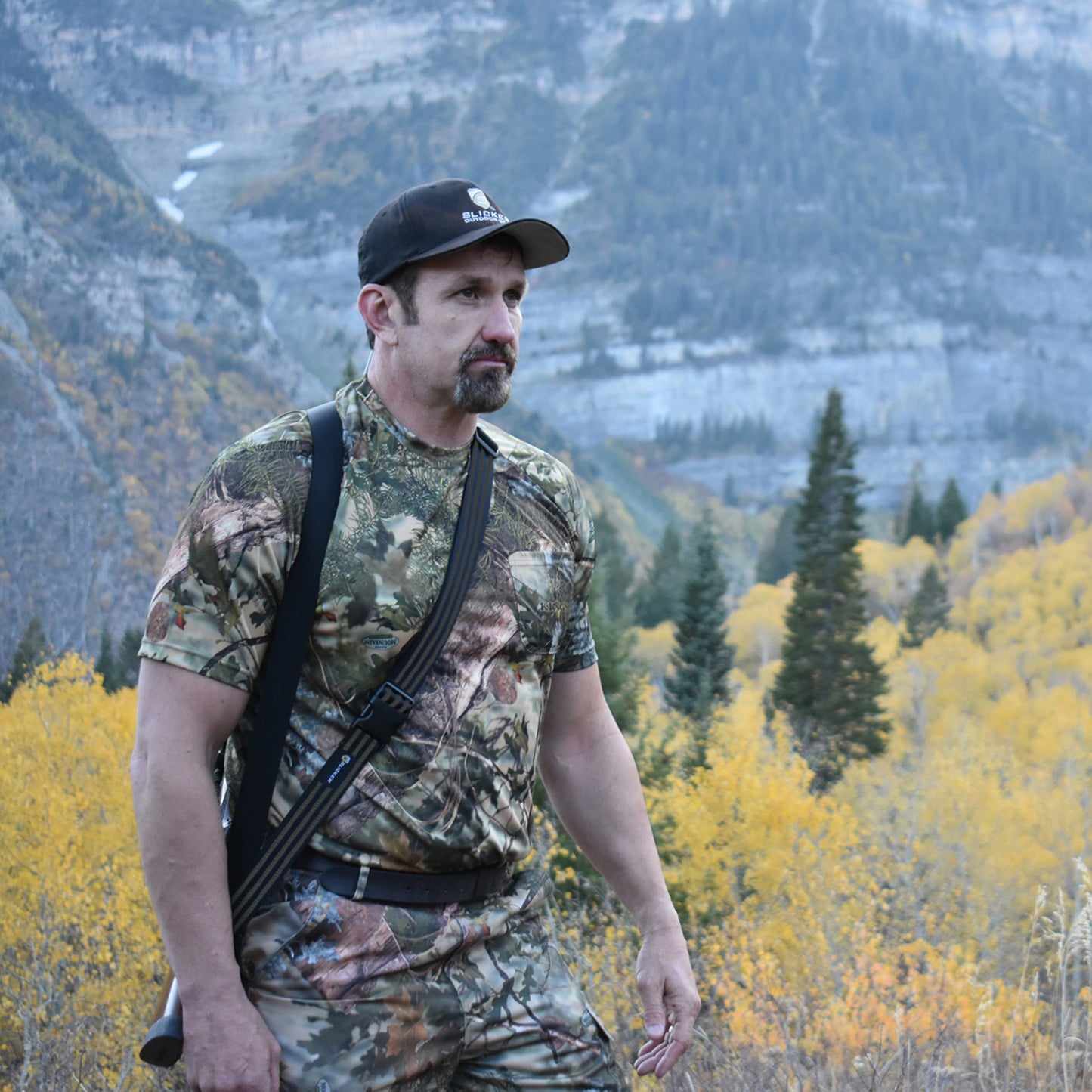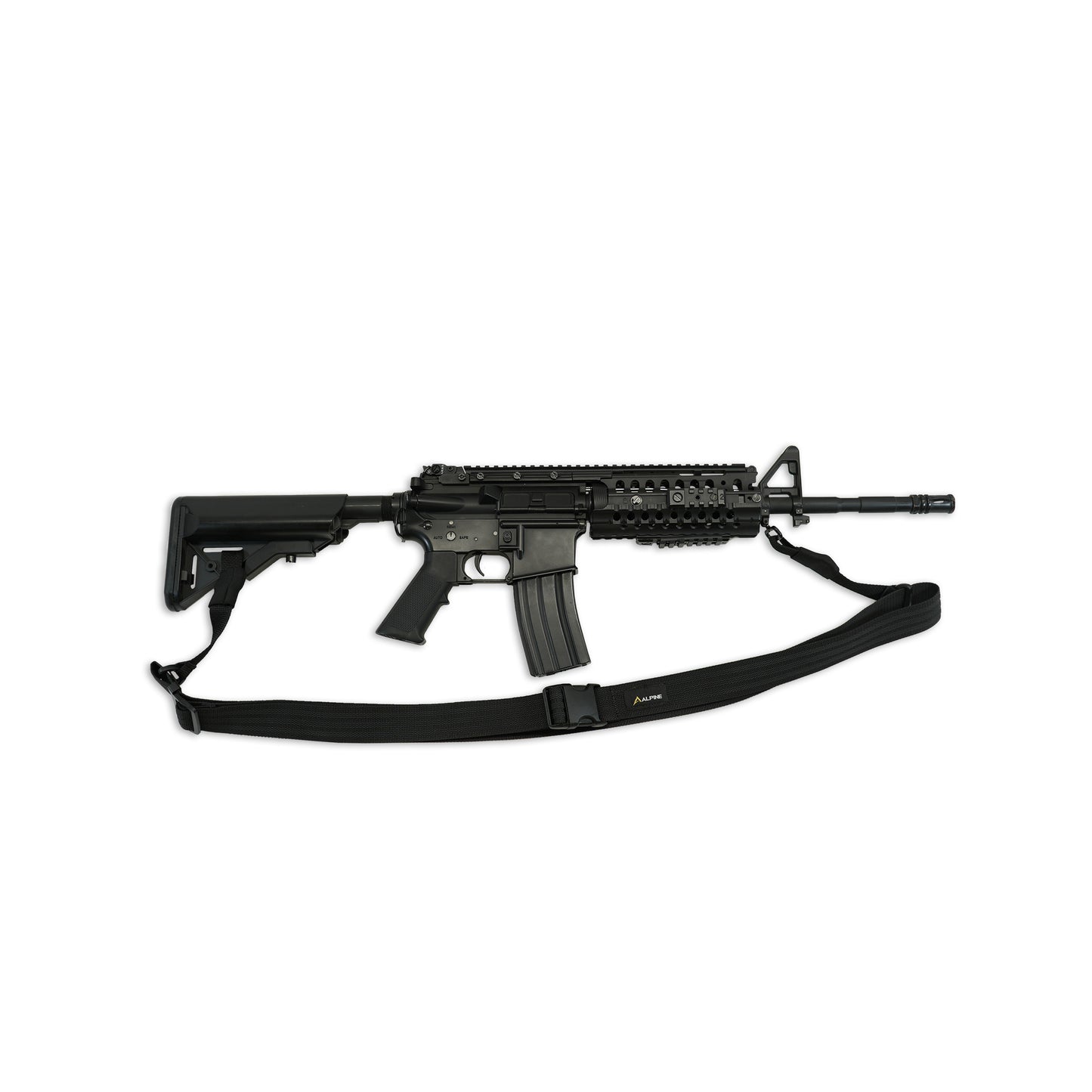 Comfortable Sling.
This was easy to attach to my rifle. Can't wait to try it out in the woods.
Excellent Product
I would like to congratulate Alpine products on an amazing product. We primarily hunt in South Africa in big game hunting areas. This means long walks in thick bush at time. The sling not only makes it easy to carry the rifle all day but it also makes it super easy to maneuver through thick bush areas with your rifle securely in its place. I highly recommend this product to any avid hunter.
Marnus,
We thank you for the very thoughtful review and wish you all the success on your hunts this year!
Dual Sling Comfort Rifle Sling [Offered in QR or QD style swivels or Strap]
Collapsible content
Material

All products are made by hand proudly in the U.S.A. Materials are made from weatherproof neoprene. Dyed, Pressed, Cut, Sewn, and shipped to you. Alpine Products strives to give you the best quality for a product you can trust.
Warranty

All Products are backed by our Limited Life Time Manufacturer Guarantee. To learn more please visit Our FAQ Page.
Shipping

Alpine Products ship worldwide. If you have any specific questions about ship please check out our FAQ page for more info or contact our customer support.