Regular price
$49.99 USD
Sale price
$54.99 USD
Unit price
per
Sale
Sold out
SKU: E-SK-XDBHFD10-VTN1
Introducing the Bino Slicker XD Harness: Unparalleled Optics Protection
The Bino Slicker XD Harness, brought to you by Alpine Products, is the ultimate solution for minimizing bulk while ensuring top-notch protection for your binoculars. Designed to accommodate a wide range of binoculars from 8x24 to 20x56, this harness holds your optics securely against your chest, preventing any bouncing or sagging during your outdoor adventures. With attachment points on both shoulders, you can conveniently carry additional accessories.
Crafted with flexible and weatherproof neoprene, the Bino Slicker XD Harness offers superior functionality and durability. Its innovative design eliminates unwanted sagging and bouncing, providing a stable and comfortable carrying experience. The harness features durable webbing on the shoulders and elastic webbing under the arms, combining optimal comfort with long-lasting performance.
When quick and silent access to your optics is crucial, the Alpine Ultralight Bino Harness delivers. The weatherproof neoprene cover allows for swift and quiet retrieval of your binoculars. Simply flip down the cover to access your optics instantly. Additionally, the cover is equipped with built-in lens cloths for added convenience.
The Bino Slicker XD Harness goes beyond exceptional optics protection. It offers multiple attachment points on each shoulder, perfect for securing accessories such as our Range Slicker case. The cover also incorporates two microfiber cleaning cloths sewn inside, ensuring that your lenses stay crystal clear throughout your outdoor endeavors.
Leave behind the burden of bulky chest clutter and lighten your load with the XD Bino Harness. Embrace the ultralight system, weighing a mere 6 ounces, without compromising on functionality or durability.
Please refer to our comprehensive Sizing Guide. to find the perfect fit for your binoculars.
Key Features of the Bino Slicker XD Harness:
Optics Compatibility: Designed to fit most roof prism binoculars ranging from 8x32 to 20x56, ensuring versatility and a snug fit for your optics.

Secure and Convenient Design: Elastic webbing keeps the cover securely in place when not in use, providing peace of mind during your outdoor activities.

MOLLE Shoulder Straps: Benefit from two accessory attachment points on each shoulder, allowing you to customize your gear setup with ease.

Built-In Lens Cloths: The cover includes two microfiber cleaning cloths conveniently sewn inside, ensuring that your lenses are always ready for optimal viewing.

Integration with Bino Slicker NX™: The Bino Slicker XD Harness seamlessly integrates with the Bino Slicker NX™, offering enhanced versatility and protection for your optics.
Experience the pinnacle of optics protection and carrying convenience with the Bino Slicker XD Harness by Alpine Products. Leave behind the excess baggage and embark on your outdoor adventures with confidence and ease.
Share this product
View full details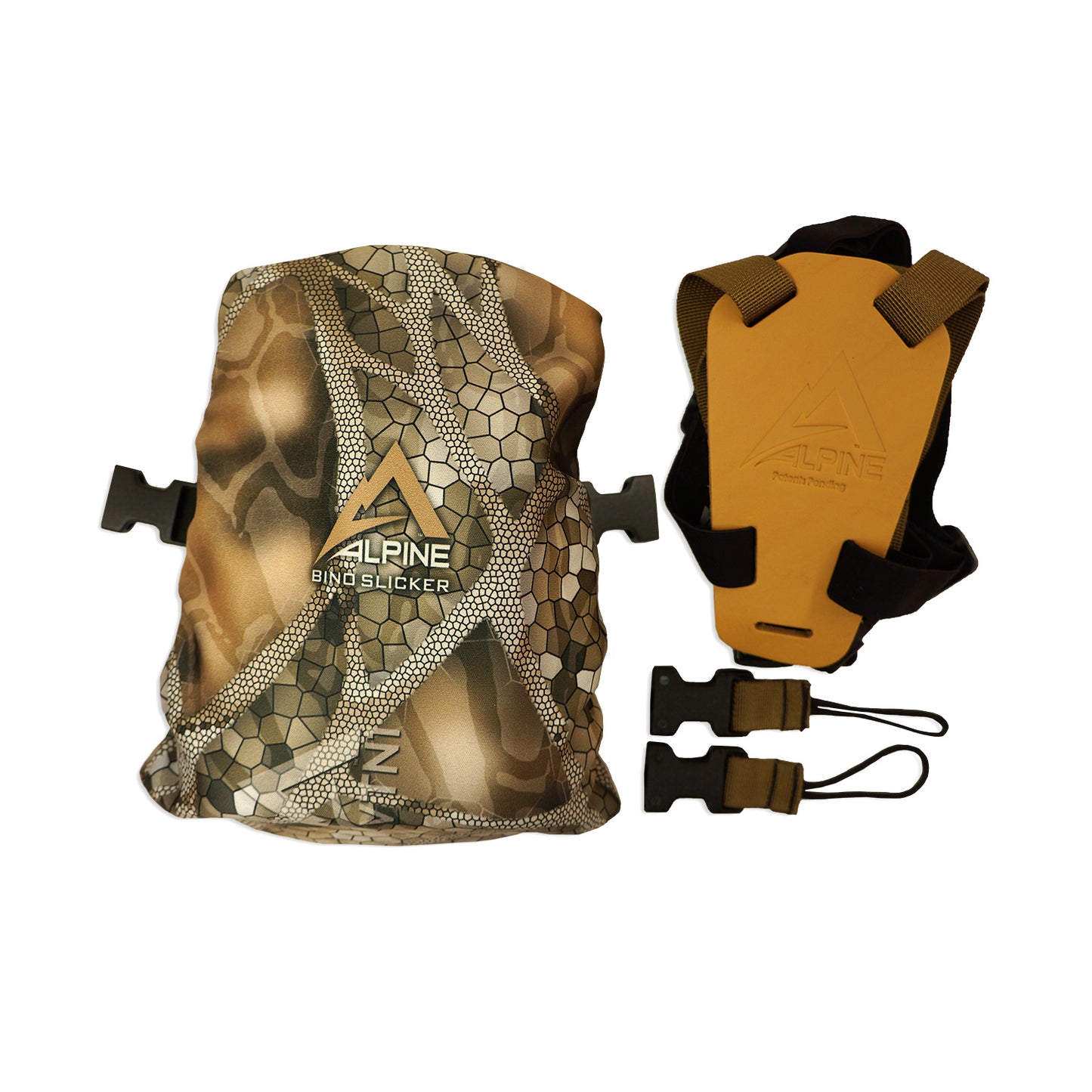 Light and simple
I love this harness because it does exactly what is needed and no more. It is simple, light and does what is needed and no more. I hunt in FL and NC and use it at all times while hunting from the ground, in a tree stand or using a climber.
Very nice built very well
Hi Robert,
Thank you for the review. Glad you're enjoying our Ultra-light Harness!
Perfect Pistol slicker
I've been looking for a method to carry my Glock 20 while backpacking that would accomplish several things: Be weather proof; Not appear overly tactical looking; Be lightweight and no bigger than necessary to carry just the gun; Conceal the gun from view; Comfortable; Reasonably priced. After finding many options that checked a few of the boxes, I came across the Pistol Slicker, and it fit my criteria PERFECTLY. Having worn it on several hikes now, I can't believe how comfortable it is to carry. Works well with my day pack and overnight pack and does not interfere with chest straps or hip belts. I haven't been in a rain shower with it yet, so I can't say how watertight the material is, but it's so compact I can easily zip my jacket over it in a downpour. All-in-all it is a very well thought out design and well executed. The only slight knock against it is the Glock 20's grip sticks up just a little above the plastic backer, causing the shell material to pull a little tight and awkwardly over it. But I played around with the leather retaining strap screw placement a little bit and improved how it rides on the backer to the point it's not as noticeable. My guns that are just slightly smaller (Full size M&P and Glock 17) fit perfectly. Thanks for making such a great product!
Collapsible content
Material

All products are made by hand proudly in the U.S.A. Materials are made from weatherproof neoprene. Dyed, Pressed, Cut, Sewn, and shipped to you. Alpine Products strives to give you the best quality for a product you can trust.
Warranty

All Products are backed by our Limited Life Time Manufacturer Guarantee. To learn more please visit Our FAQ Page.
Shipping

Alpine Products ship worldwide. If you have any specific questions about ship please check out our FAQ page for more info or contact our customer support.