Regular price
Sale price
$34.99 USD
Unit price
per
Sale
Sold out
SKU: E-GSXFD10-D24
Introducing the Alpine Gun Slicker - Your Ultimate Waterproof Rifle Cover
During the hunting season, Mother Nature often surprises us with unpredictable weather. One moment you may be basking under sunny blue skies, and the next, you find yourself caught in a downpour. But what about your trusted rifle and scope? Shouldn't they be protected from rain, strong winds, and mud, just like you shield yourself with weather-appropriate gear? Don't let your prized possession get rusty, dusty, or crusty. It's time to equip yourself with the Alpine Gun Slicker - the ultimate solution to keep your rifle and scope clean, dry, and ready for action!
At Alpine Products, we understand the importance of having efficient equipment and accessories during your hunt. That's why we've designed the GunSlicker™ rifle cover specifically for hunting. With its barrel port feature, you can conveniently slip your barrel through and tighten it, allowing you to keep the cover on even while taking your killshot. The GunSlicker™ also boasts a quick-draw adjustment cord, enabling easy one-hand size adjustment.
We know that every ounce counts when you're out in the field. Weighing less than 6 ounces and packing down to the size of a pair of socks, our rifle cover ensures that you're always prepared without adding unnecessary weight or bulk. Why carry a heavy and inconvenient waterproof rifle case when all you need is a packable, ultralight, and compact cover? The Alpine GunSlicker™ is made of durable, waterproof fabric, providing reliable protection for your rifle whenever you need it.
When you're on the move, whether on foot, horseback, or riding an ATV, convenience is key. That's why our GunSlicker™ is designed with a secure buckle that clips around your rifle, allowing you to use your sling without worrying about the cover falling off. It offers hassle-free coverage while walking or standing still, and it easily slips off quickly and quietly for effortless access to your weapon.
Renowned hunting expert Melissa Bachman knows the importance of keeping hands free, packing light, and safeguarding equipment for a successful hunt. She highly recommends the Alpine GunSlicker™ and used it during her bear hunting expedition in Alaska. Check out her experience here. Our rifle rain cover fits rifles and shotguns from 38" to 56" in length and is available in three distinct camo prints: Alpine Mountain, Vanish Tan, and Vanish Shadow. For those using scopes, we also offer the Scope Cover NX2, the ultimate rifle scope cover that ensures your optics remain clean, dry, and protected. Enhance your hunting experience by getting your Alpine Products GunSlicker™ and Scope Cover NX2 today!
Key Features of the Alpine Waterproof Rifle Cover:
Quick-Draw Adjustment Cord: Easily size fit your rifle or shotgun with the convenience of one-hand operation.

Weatherproof Protection: Block rain, dirt, snow, or mud from reaching your weapon and its scope, ensuring optimal performance in any conditions.

Overlap Buckle: Effortlessly remove the cover when needed, allowing for quick and easy access to your firearm.

Versatile Fit: Designed to fit rifles and shotguns ranging from 38" to 56" in length, accommodating a wide range of firearms.

Lightweight and Portable: Weighing approximately 5 ounces in total, the Gun Slicker conveniently stuffs down to the size of a pair of socks, making it easy to carry in your gear pack.

Clip-On Anywhere: The cover can be securely clipped onto various points on your gear, providing flexibility and accessibility.

Quiet Fabric: The fabric used ensures silent operation, preventing any unwanted noise that could alert game animals.

Four Camo Prints: Choose from our selection of four camo prints to match your hunting environment and preferences.

Fully Washable: Keep your Gun Slicker clean and fresh by easily washing it when needed.

Made in the USA: Rest assured that your Gun Slicker is proudly crafted in the United States, meeting the highest quality standards.
Equip yourself with the Alpine Gun Slicker and never let adverse weather conditions hinder your hunting success. Experience the ultimate protection and convenience that only Alpine Products can provide.
Share this product
View full details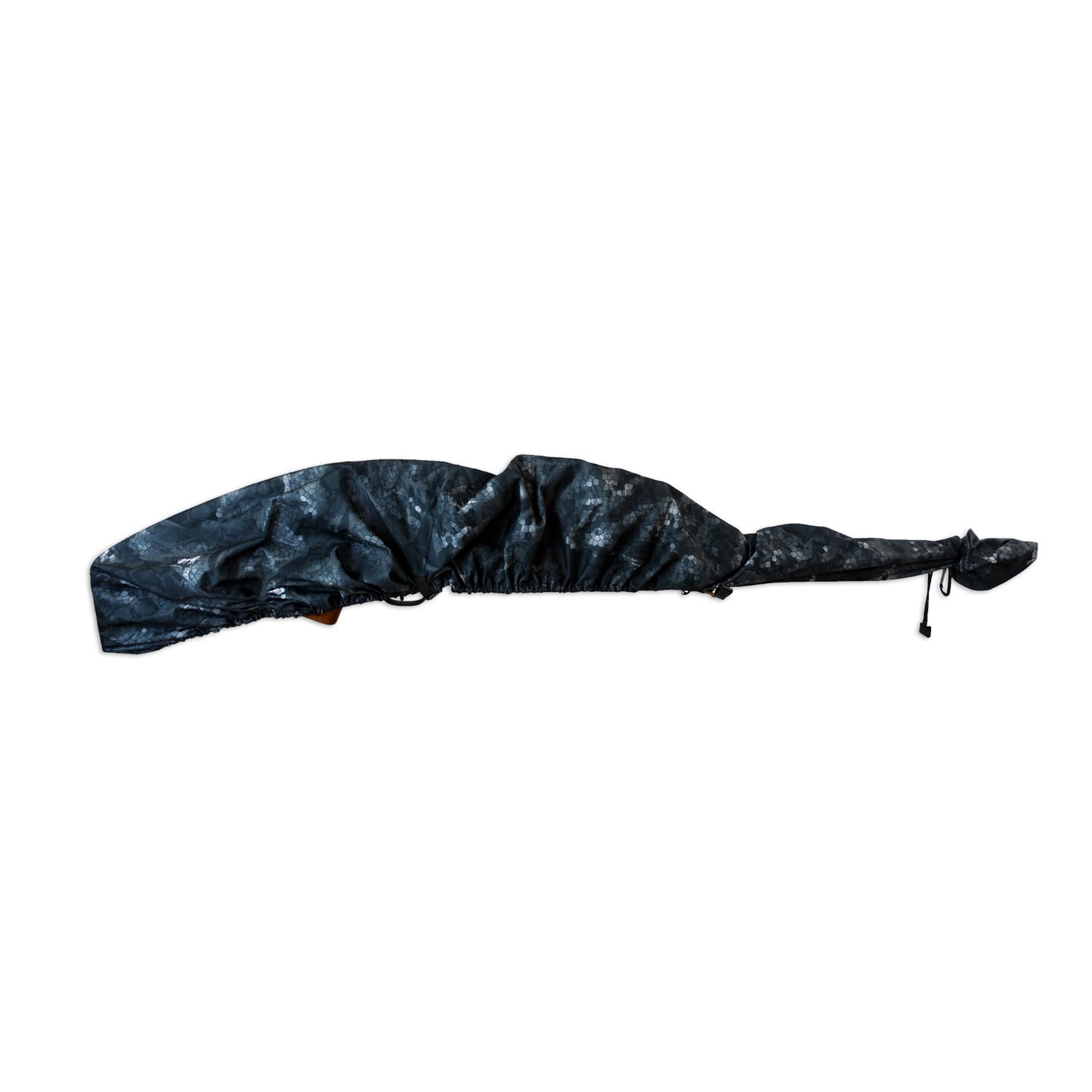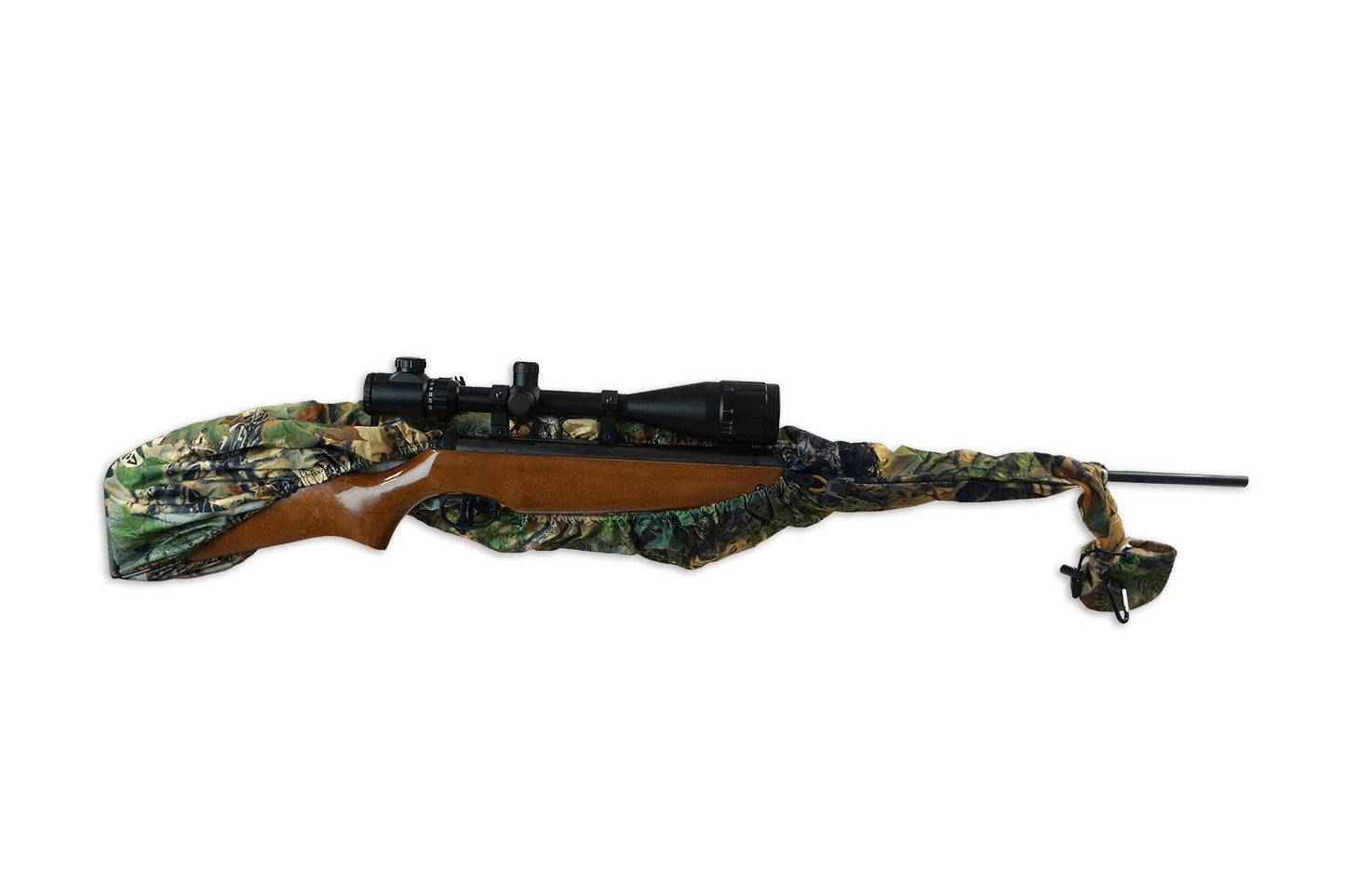 Buen producto
He comprado este producto y está perfecto para el rifle buena calidad vivo en España y es perfecto
Was a good buy
Works well and I would recommend it to everyone
Robert,
Thank you for taking the time to write us a review on one of our top sellers! The Gun Slicker is definitely an industry favorite, enjoy!
Gun Slicker / Buck Fiden/ let's go Brandon
Great protection for my Browning,and a shot at the commander and thief!!! What's not to like! Thanks again for a great product.
great product very easy to use and compact to carry
Rain Rain go away..
This rain slicker is sweet! Not only is it good for rain and heavy dew but during my ATV ride out to my stand(s) through mud holes. Git you one 🇺🇸
Thank you for your thoughtful reply. The Gun Slicker is great for repelling rain and weather! Share with your friends and family!
Collapsible content
Material

All products are made by hand proudly in the U.S.A. Materials are made from weatherproof neoprene. Dyed, Pressed, Cut, Sewn, and shipped to you. Alpine Products strives to give you the best quality for a product you can trust.
Warranty

All Products are backed by our Limited Life Time Manufacturer Guarantee. To learn more please visit Our FAQ Page.
Shipping

Alpine Products ship worldwide. If you have any specific questions about ship please check out our FAQ page for more info or contact our customer support.